Vintage Tea Length Pleated Lace Wedding Dress with Sleeves
The perfect lace wedding dress for a retro themed wedding! Inspired from the 50s, this short cotton lace wedding dress is made with elegantly pleated tea length skirt, accented with beautiful eyelash edge sheer lace neckline. Open V back can also be fully covered or lined by request. 

Sash is not included but can be ordered separately.
Ieie's Bride
Working Time:  8-10 weeks
Rush Order please inquire prior to order.
Custom Designs
We specialize in custom design services.
If there's a dress you like and it's not on our website,
you're more than welcome to email us a picture of the dress for a quote.
info@ieiebridal.com
Customer Reviews
Lovely and affordable dress
We planned our wedding—more of an elopement—in one month. I found this dress online, originally at Etsy, and fell in love, especially considering the affordable price compared to other options! Wendy was great to work with (via email), and the made-to-order dress arrived in plenty of time as a rush order. Do follow their recommendation of using a tailor for measurements. We did it at home due to our tight timeframe, and the dress was WAY too big upon delivery. Thankfully a local seamstress was able to help out on our timeline and took the dress in 1-5 inches in places. Yikes! She also sewed in the sash, which was fantastic given that it also was far too large. I'm only docking one star due to some marks on the dress upon delivery. Thankfully the seamstress was able to steam them out. It also would be great if a sewn-in sash was an option for the made-to-order dresses. Overall, I was very pleased and happy! I would recommend this shop to other brides.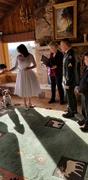 Amazing!!
I was a bit nervous at first about ordering a dress online without trying it on, but I was SO in love with this style and can't find it in most dress stores (and who could beat this price??). I emailed Wendy my measurements, she assured me that it could be done in time (ordered February for June wedding). I was worried about measurements since I had to measure myself with my partner's help. I tried on the dress as soon as I got it and was amazed. Fits perfectly and the quality is great! It is comfortable and adorable - exactly what I wanted. I got the sash that was offered with it and am so happy I did (saved time, money and it looks great - it helped set the tone for the jewelry and made that process easier, too). I had pockets put in, and it was worth it (so cute!!!). When I first started dress shopping, I thought I would have to settle for something I could afford and put up with not being 100% in love with my dress. But I feel like a princess in it and can't wait to wear it for my wedding. It is a beautiful dress that I absolutely adore and happened to be priced within my range. HUGE THANK YOU to IEIE Bridal for creating such a beautiful dress that I feel amazing in.
why confirm measurements of not used?
Let me start by saying first off the dress is beautiful and it's made very well. However I was asked for my measurements and then I was asked to confirm my measurements but then the dress was not made to my measurements. I had to take it to have it altered because it is 4in too short from being able to close in the back. We are having to take out all of the material in hopes that we will have enough to get it to close and if not we're going to have to find somewhere on the dress to cut material off in order to get it to work. Very disappointed that it was not made at least to the the measurements I gave when confirming correct measurements was stressed so heavily.
Absolutely Beautiful
This dress is absolutely beautiful and very well made! The material is thick and high quality. I made two customizations to the dress - I lengthened the sleeves and had the hemline changed so all the layers were flush (instead of having the lace over hang the other layers). The customizations are exactly as I asked.
It's just what I wanted!
This dress was exactly what I was looking for in a wedding dress. Everyone I've showed so far loves it and the dress is great quality! I'm so glad that I was able to customize it and add a pop of color. I had it custom made for my size and it fits perfectly!
We want our clients to be thrilled with their dress purchase at ieie Bridal and we understand purchasing such an important dress online can be a challenge.  We stand behind the quality of our dresses and welcome returns for any reason. Please contact us within 7 days after receiving your item if there's an issue.
Dresses
Wedding Dresses & Special Occasion Dresses
If for any reason you're not satisfied with your wedding dress, we will resolve the issue if we can. If return is the only option, you can ship the dress back (post-marked) within 14 calendar days after receiving the dress. 
Contact us within 7 days after receiving your dress for return instructions.
Please make sure your dress is in the original condition, dress will be returned to you if there's any damage, perfume odor or hair piece found. 
20% restocking fee are charged on the dress returned if it is a standard size dress with no customization.
40% restocking fee are charged if it is a custom size order or standard size with customization.

If the dress is returned with perfume odor, 40% restocking fee will be applied or the dress will be returned to you
Dress on Sale
Dresses that's on sale or received discount off the full price are final sale.
Custom Dresses
Special orders such as dresses custom made based on a pictures are final sale.
---
Veils & Accessories
Veils
Veils can be returned within 7 business days as long as it's still in its regular condition with no hair or damage. 
Contact us within 7 days after receiving your veil for return instructions. No returns will be accepted after the return period.
Please make sure your veil is in the original condition. 
20% restocking fee are charged on all returned veil.
Customized veils are final sale.
Cloaks/Petticoats/Shurg/Bolero
Contact us within 7 days after receiving your item for return instructions. No returns will be accepted after the return period.
Please make sure your item is in the original condition. 
20% restocking fee are charged on all returned item.
Customized items are final sale.
Wedding Robes
Intimate wear such as honeymoon robes are final sale due to their nature.
---
How to Request a Return
Please email us within 7 days after you receive your order if you like to return your item ordered. 
Any claims of defective dresses will be inspected, and if it is fault on our behalf, your dress will be replaced to you in the same size, color and style.
Refunds are issued based on their method of payment, and can take up to 1-2 weeks to be processed. Feel free to contact us with any questions.