Customization for dresses. 
Details as discussed. 
Customer Reviews
11/19/2020
Lynda N.
United States
Listen to your customers
Terrible experience actually. I ordered a size 12, but was talked into a size 18. I even mentioned I was not comfortable ordering a size 18. The people who run this shop need to take a lesson in communication, specifically listening to their customers. When the dress arrived and I tried it on , I cried for hours because this is my first wedding and my first wedding dress. I Know my body and I know what size clothes I wear. I have had to take the dress to be tailored and it has cost me close to $100.00 plus $350.00 for dry cleaning. If I was to truly give them a review it would be a 0. Customer Service should be your #1 priority, Knowledge of your products not to mention that it has been almost 2 weeks and your company is just now asking my opinion or if everything is ok. No it's not ok. I want my money back and a very big apology. Lynda Neal. Unhappy bride The following is written by the groom. You shall at a minimum reimburse any and all alteration and cleaning cost. I very well could request full reimbursement due to deceptive business practices and the fact the material (satin) was not used in making the waist wrap, It was the same material as used in the upper portion of dress. Otherwise additional reviews on every social media platform of our experience shall be an option to forewarn others of in my opinion the deception we've experienced. You have 48 hours to respond.
10/12/2020
Laura W.
United States
Wonderful!
I'm not a traditional kind of woman. Halloween is my favorite holiday so of course I wanted to get married on Halloween! I didn't want a plain dress. I wanted color and something still beautiful! I looked for weeks before I came across this site. I found the perfect dress!! I emailed them and asked MANY questions and they were so helpful and patient. So I ordered the dress and made a few changes. We were in touch the whole time. Waiting was hard but well worth it!! I think it took about a month and a half for them to make my dress. My sister and I cried when we unboxed it. It was even more beautiful in person!!! I cant thank you all enough, you made my dreams come true!! Thank you thank you!! I can't wait to walk down the aisle for the best Halloween of my life! With all my love and gratitude, Joy W.
07/30/2020
Isabelle K.
United States
Perfectly done
I needed modifications done and I wanted a certain style for the sleeves. The dress turned out beautifully! I couldn't be happier with it.
07/26/2020
Sarah W.
United States
Beautiful dress and great customer service!
I absolutely love this dress, I had a custom dress so I changed the neckline to a sweetheart neckline which turned out beautifully! FYI the sleeves are not fully lined, like I thought my mistake. However since I wanted them fully lined I contacted IEIE and they sent me the fabric to line the bottom of the sleeves with for free. AMAZING customer service: Wendy thank you so much! Over all the beading I had done added so much to both my dress and veil. The only thing I have a problem with is not being able to lift my arms up the sleeves just don't allow it, I can barely lift them high enough to dance. My sister had the same problem with another dress from this site.
01/21/2020
Melissa L.
United States
Wedding Dress/Wrong Sizing
The reason why I give this dress the review it has is because, I have all of my measurements(and definitely not my size when it came in). I asked for the train to be cut off, hasn't even been cut off & doesn't look like it. I asked for the top to be just like the picture, but the sides(shoulders) we're coming off. The whole dress itself was huge, twice the size it wasn't suppose to be. Thank goodness I found my size in store. The ladies in store told me-every single one I went to said "DO NOT buy a wedding dress online"! I should've listened. If you are a future bride, please just go in store & you'll find your lovely, dream dress. Sometimes the ones online don't come how there suppose to, or don't even look like the picture. Trust me. And I have got this told about 3-4 times, but didn't take into consideration, but now I hope I can help a future bride. I would like to say Wendy was helpful with responding to emails, but it really was a disappointment the dress wasn't good at all. Now my money went to nothing, and I can't get it back.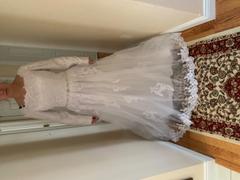 We want our clients to be thrilled with their dress purchase at ieie Bridal and we understand purchasing such an important dress online can be a challenge.  We stand behind the quality of our dresses and welcome returns for any reason. Please contact us within 7 days after receiving your item if there's an issue.
Dresses
Wedding Dresses & Special Occasion Dresses
If for any reason you're not satisfied with your wedding dress, we will resolve the issue if we can. If return is the only option, you can ship the dress back (post-marked) within 14 calendar days after receiving the dress. 
Contact us within 7 days after receiving your dress for return instructions.
Please make sure your dress is in the original condition, dress will be returned to you if there's any damage, perfume odor or hair piece found. 
20% restocking fee are charged on the dress returned if it is a standard size dress with no customization.
40% restocking fee are charged if it is a custom size order or standard size with customization.

If the dress is returned with perfume odor, 40% restocking fee will be applied or the dress will be returned to you
Dress on Sale
Dresses that's on sale or received discount off the full price are final sale.
Custom Dresses
Special orders such as dresses custom made based on a pictures are final sale.
---
Veils & Accessories
Veils
Veils can be returned within 7 business days as long as it's still in its regular condition with no hair or damage. 
Contact us within 7 days after receiving your veil for return instructions. No returns will be accepted after the return period.
Please make sure your veil is in the original condition. 
20% restocking fee are charged on all returned veil.
Customized veils are final sale.
Cloaks/Petticoats/Shurg/Bolero
Contact us within 7 days after receiving your item for return instructions. No returns will be accepted after the return period.
Please make sure your item is in the original condition. 
20% restocking fee are charged on all returned item.
Customized items are final sale.
Wedding Robes
Intimate wear such as honeymoon robes are final sale due to their nature.
---
How to Request a Return
Please email us within 7 days after you receive your order if you like to return your item ordered. 
Any claims of defective dresses will be inspected, and if it is fault on our behalf, your dress will be replaced to you in the same size, color and style.
Refunds are issued based on their method of payment, and can take up to 1-2 weeks to be processed. Feel free to contact us with any questions.