Customization for dresses. 
Details as discussed. 
Customer Reviews
01/22/2020
Melissa L.
United States
Wedding Dress/Wrong Sizing
The reason why I give this dress the review it has is because, I have all of my measurements(and definitely not my size when it came in). I asked for the train to be cut off, hasn't even been cut off & doesn't look like it. I asked for the top to be just like the picture, but the sides(shoulders) we're coming off. The whole dress itself was huge, twice the size it wasn't suppose to be. Thank goodness I found my size in store. The ladies in store told me-every single one I went to said "DO NOT buy a wedding dress online"! I should've listened. If you are a future bride, please just go in store & you'll find your lovely, dream dress. Sometimes the ones online don't come how there suppose to, or don't even look like the picture. Trust me. And I have got this told about 3-4 times, but didn't take into consideration, but now I hope I can help a future bride. I would like to say Wendy was helpful with responding to emails, but it really was a disappointment the dress wasn't good at all. Now my money went to nothing, and I can't get it back.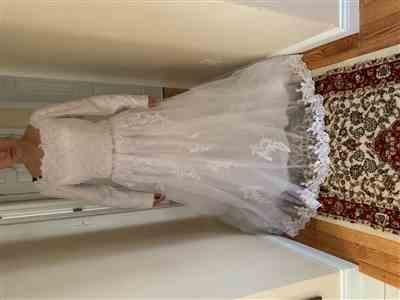 12/14/2019
Caroline Å.
Norway
Absolutely incredible!
I got to completely customize my dress just how I wanted it, and got it tailored to me. The process and service was fantastic, especially considering it was all by email! I was sent beautiful photos to hold me over while I waited for it to arrive. When it did, I was amazed by the detail, and it fit me really well! Can't wait for my wedding day. Thank you so much again ieie! I couldn't have had a better experience - and you can't beat that price!
12/13/2019
Stacia K.
United States
Customized Dress Order
Wonderful!!! I had some very specific requests for my dream dress, I knew exactly what I wanted, the bridal shop commu icated with me quickly and throughly.... even when I thought everything was set up, the shop asked again, just to make sure that everything I wanted was in place. They were also very in depth with my measurements... when my shoulder measurement didn't look right tp them, they asked me to remeasure... it was a time consuming process, but a process that ended in my beautiful dream dress that fits like a glove! the material is soft, not heavy, and is quality. This looks and feels like exactly what it is.... a custom made dress!I am so excited! I recommend this shop to anyone who knows what they want and hates to try on.... this dress is the first and last wedding dress I have ever put on! There is somthing so romantic about that! I had an amazing experience without all the stess and hassle of a store... if you really have a vision for your dress, go with this shop! they will do everything to make you happy!
07/10/2019
Sharon S.
United States
Beautiful dress
This dress exceeded our expectations!!! Love it, it is so pretty, great quality!!!
11/29/2018
Caitlin D.
United States
Perfect Fit and Perfectly Made
I got the dress and it was perfect. The sizing fit me like a glove. I have extremely side shoulders, but my dress fot me perfectly because the measurements were exactly right.
We want our clients to be thrilled with their dress purchase at ieie Bridal and we understand purchasing such an important dress online can be a challenge.  We stand behind the quality of our dresses and welcome returns for any reason. Please review our return policy before making your purchase.
If for any reason you're not satisfied with your wedding dress, please contact us within 7 days of receiving your dress or item.
We will resolve the issue if we can. If return is the only option, please ship the dress back (post-marked) within 7 calender days.
Returns and cancellations are accepted on new dresses only.
Cancellations are processed the same as returns.
If the dress is without tags or is damaged or has perfume odors, the item will be sent back.
Deposits for dresses are non-refundable.
Dresses purchased under payment plan will be treated as abandoned if payments are not cleared within 7 days after dress is completed. Any amount paid prior will not be refunded.
Shipping costs are non-refundable.
If your item is purchased during "FREE SHIPPING" promotion, applicable shipping charges will be deducted from your refund.
Made to Order Dress

 20% restocking fee are charged on the dress returned if it is a standard size dress with no customization.

40% restocking fee are charged if it is a custom size order or standard size with customizations.
Ready to Ship Dress
In stock ready to ship dresses are fully refunded (less shipping charges), if the dress is returned in it's original condition. 
Missing tags or perfume odor will result in a restocking fee. 
Dresses that's on sale or received discount off the full price are final sale. 
Custom Dresses 
Special orders such as dresses custom made based on a pictures are final sale.
Accessories & Sale Items
Accessories such as veils, garment bags and belts/sashs have a 20% restocking fee if returned.
No returns are accepted after the 7 days period.
Sale and discounted items are final sale.
To Return an Item
For returns, you must notify us via email as soon as you can to request a Return Merchandise Authorization Number (RMA#).
Upon receipt of your RMA#, you must ship back the new and unworn dress or item in its original condition. (No stains, alterations, makeup, alteration, animal fur or hair, etc. Note: if the dress is returned with perfume odor, 40% restocking fee will be applied or the dress will be returned to you).
The returned item must be shipped out within 7 days of receiving your item (verified by tracking information) 
Any claims of defective dresses will be inspected, and if it is fault on our behalf, your dress will be replaced to you in the same size, color and style.
Refunds are issued based on their method of payment, and can take up to 1-2 weeks to be processed. 
Feel free to contact us with any questions.